Former President Donald Trump was "very upbeat" in the wake of the FBI raid on his home, according to Republican lawmakers who met with him on Aug. 9.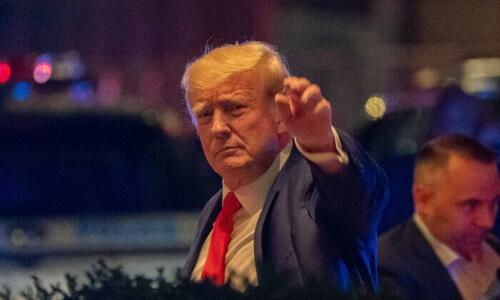 Former President Donald Trump arrives at Trump Tower in New York on Aug. 9, 2022. (David 'Dee' Delgado/Reuters)
About a dozen members of the Republican Study Committee, led by chairman Jim Banks (R-Ind.), met with Trump over dinner at his golf club in Bedminster, New Jersey, a day after the FBI raid on his Mar-a-Lago resort, which Trump and allies have characterized as an attempt from the left to keep the former president from taking the office again.
The raid was an inevitable topic during the roughly three hours they spent together, but it wasn't a major focus, the lawmakers said. During the meeting, which was scheduled ahead of the raid, the former president appeared to be in a great mood. He made jokes and signed autographs on his trademark red hats. He talked to all the Republican members in the room and interacted with some of their staff members.