Monday August 15 marks the one year anniversary since the Taliban takeover of Kabul, Afghanistan - which kicked off weeks of a botched US scramble to evacuate the remaining military, State Department, and US civilians from the Afghan capital. Tens of thousands of translators and other Afghans arrived at the airport in waves, desperate to get out amid the Taliban onslaught. 
As the US-propped up president Ashraf Ghani was among the first officials to flee the country, reportedly with some $169 million raided from state coffers, local Afghan troops also melted away, allowing the Taliban to march into Kabul with ease. From there a chain of events saw what was then known as Hamid Karzai International Airport descend into chaos as a poorly prepared US and international coalition security perimeter struggled to prevent the flood of people desperate to escape the war-torn country from overwhelming the runways.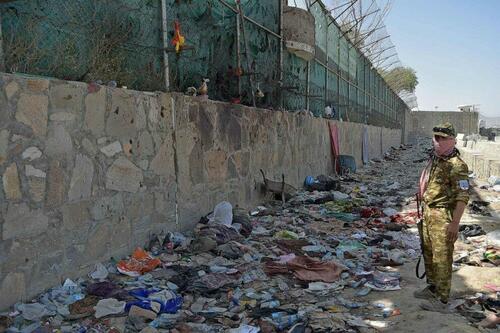 Scene of the aftermath of the ISIS-K suicide attack, via AFP/Getty Images
On August 26, 2021, a suicide bomber attacked a crowded airport entry checkpoint, killing scores of Afghan civilians and 13 American troops, mostly Marines. An estimated 45 additional US troops had been wounded in the blast, considered among the greatest US military disasters in over two decades of occupation since 2001.